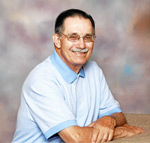 Life Gift Boxes are the result of the Spiritual life transformation of their creator, John A. (Jay) Woods who experienced that the total surrender of one life for another would lead to a 30 year journey of recovery from the disease of alcoholism.
Jay discovered a new life isn't possible without a WILLINGNESS to let go of an old one. He examined his past and FORGAVE himself for his mistakes and he developed an attitude of GRATITUDE.
WILLINGNESS, FORGIVENESS and GRATITUDE taught him to LOVE himself, a faculty necessary for him to truly LOVE another. He learned that APPRECIATION elevates the self-opinion of others and JOY is the result of expressing all of these faculties of life.
This spiritual insight led him to write a poem in 1999 called, "I Understand", (www.yesiunderstand.com) which lists 12 positive stepping stones of life. The poem was first published in March, 2010 by The Daily Word, a daily inspirational magazine circulated in 110 countries, 7 languages. Jay is developing curriculums for ministers, parents, teachers, coaches and businessmen based on the 12 life affirming principles of the poem.
JOY, LOVE, FORGIVENESS, GRATITUDE, APPRECIATION, and ABUNDANCE are the sentiments expressed when you give a gift in a LIFE GIFT BOX. They are practical application tools that will change your life and the lives of others.
LOVE YOURSELF AND LOVE ANOTHER IS THE PLATINUM RULE OF LIFE GIFT BOXES